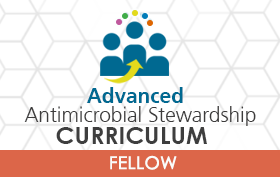 Section 1: ASP Development & Logistics (Fellows)
Section 1: ASP Development & Logistics
In this section, you have just started a new job as the director of a new Antimicrobial Stewardship Program (ASP). This case-based module will help you start planning the first year in this new leadership role (assembling your multidisciplinary team of experts, conducting a needs assessment of existing tools and resources, meeting regulatory requirements and benchmarks., etc). In the later part of the module; you will practice working with NHSN antibiotic use data (AU) to understand how to validate, interpret, analyze, and present this data to relevant stake holders. Either local data from your own institution provided by a local ASP mentor, or a sample data extract can be used for this purpose.
This section contains 1 eLearning and 2 Application Activities. 
Target Audience
Fellows/Trainees interested in leading an Antimicrobial Stewardship Program.
Learning Objectives
Upon completion of this section, you will be able to:
Define ASP programmatic goals and expected outcomes
Formulate a plan to measure and report the efficacy of an ASP
Identify common process and outcome measures/metrics
Describe the key steps in establishing an ASP and choosing AS team members
Demonstrate leadership skills as applicable to antimicrobial stewardship and leading an ASP
Consider principles of quality improvement and patient safety when performing antimicrobial stewardship
Describe how to implement the core elements of hospital ASPs into practice
Recognize and be able to perform regulatory and reporting aspects of ASPs (e.g. NHSN AU/AR Reporting)
This version of the curriculum is not accredited for CME or MOC.