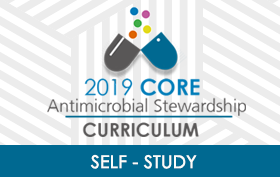 Section 1: Introduction to Antimicrobial Stewardship (Self Study for medical students)
Congratulations!
You now have access to the 2019 Core Antimicrobial Stewardship (CAS) Curriculum Self Study for medical students. 
Start by completing the pre - curriculum survey.  Both the pre and post surveys are required in order to receive your certificate.
Once you complete the pre curriculum survey, proceed to the first module and review the Self Study User Guide to get familiar with background information and concepts that will be presented during this course. 
You can then access and download the following resources as well.
Self Study Roadmap/User Guide - full resource manual that explains the overall curriculum, learning objectives, and navigating the LMS
Curriculum Planner - one page document that allows you to build a timeline for completing all sections and modules
AS Clinical Teaching Tool - front/back document used to apply and reinforce AS principles into everyday clinical practice
AS Core Concepts - one page document that covers the 5 Core Concepts for the Curriculum
Target Audience
Infectious Diseases Professionals and others who desire to learn more about antimicrobial stewardship but are not in a participating fellowship program, no longer in fellowship, or would like to gain more knowledge on the subject.
Learning Objectives
Upon completion of Section 1, you should be able to:
Define antimicrobial stewardship, its programmatic goals, and key strategies to achieve the goals
Relate trends and patterns between antimicrobial use and resistance
Recognize adverse events associated with the use of specific antimicrobials, including the risk for development of C. difficile infections
Describe the role of clinical and laboratory diagnostic tools in improving antimicrobial use
Define expected outcomes of an ASP
NOTE: Because this curriculum was initially designed specifically for fellows, you may hear repeated reference to "fellows" ,"stewards in training" or "fellows/trainees"
AS Curriculum Workgroup COI Summary Reviewed April 2017 by Rachel Simmons, MD No conflicts found
| Name | Individual's Role in Activity | Name of Commercial Interest | Nature of Relationship |
| --- | --- | --- | --- |
| Abbo, Lillian | Workgroup member | Pfizer Brazil | Honoraria |
| Advani, Sonali | Workgroup member | Nabriva Therapeutics | Advisory/Consultant Role |
| Amstrong, Wendy | Workgroup member | None |   |
| Barsoumian, Alice | Workgroup member | None |   |
| Beeler, Cole | Workgroup member | None |   |
| Bystritsky, Rachel | Workgroup member | None |   |
| Cherabuddi, Kartik | Workgroup member | Gatorade | Start - up Research Fund |
|   |   | NIH (Medimmune) | Research Grant |
| Cohen, Seth | Workgroup member | None |   |
| Hamilton, Keith | Workgroup member | None |   |
| Ince, Dilek | Workgroup member | Ansun Pharma | Research Grant |
| Justo, Julie Ann | Workgroup member | None |   |
| Logan, Ashleigh | Staff | None |   |
| Luther, Vera | Workgroup member | None |   |
| Lynch, John | Workgroup member | Astellas Pharmaceuticals, Juno Therapeutics | Advisory/Consultant Role |
| Nori, Priya | Workgroup member | None |   |
| Ohl, Christopher | Workgroup member | Paratek, Bayer, Cempra Pharmaceuticals | Advisory/Consultant Role |
| Patel, Payal | Workgroup member | None |   |
| Pottinger, Paul | Workgroup member | McGraw Hill, Elsevier | Honoraria |
| Schwartz, Brian | Workgroup member | None |   |
| Spicer, Jennifer | Workgroup member | None |   |
| Stack, Conor | Workgroup member | None |   |
| Zhou, Yuan | Workgroup member | None |   |
| Shnekendorf, Rachel | Staff | None |   |