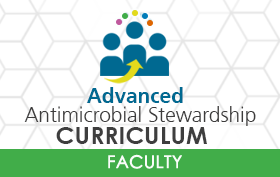 Section 2: Antimicrobial Stewardship Operations (Faculty)
Section 2: Antimicrobial Stewardship Operations
The content within Section 2 is directed at providing the steward - in - training with knowledge, skills, and resources to assess the current and ever-changing state of one's Antimicrobial Stewardship Program(ASP). The mini-lectures within the first eLearning will introduce the concept of the Antimicrobial Stewardship Toolbelt. The application activities and workbooks are focused on having the learner apply the toolbelt to their local institution. It will also help them to learn about the importance of prioritization of initiatives and daily tasks.
This section contains 2 eLearnings, 5 application activities and 2 workbooks.
As the faculty or stewardship champion leading this effort, you can decide how the content is distributed and presented to your stewards- in- training.
For Stewards:
The fellow/trainee can watch the eLearning on their own, followed by a debrief between fellow and faculty.
For Faculty:
To present in a classroom or small group setting, there are two methods of delivery:
| | |
| --- | --- |
| Method 1:                 | You can open the eLearning and let it talk for you, controlling the slides and the pace |
| Method 2:       | You can open the eLearning, disable the audio, and talk through the slides yourself |
How to Prepare in Advance:
Review the eLearnings within Section 2
Review both the fellow and faculty version for each of the workbooks
Review the application activities
Draft timeline of when to complete each component of Section 2
Target Audience
Program Directors, Antimicrobial Stewardship Faculty Champions, and additional Faculty responsible for leading and implementing the Advanced AS Curriculum.
Learning Objectives
Upon completion of this section, stewards- in- training will be able to:
Analyze local institutional data (e.g. antimicrobial use and resistance patterns) to identify impactful local stewardship initiatives 
Demonstrate an understanding of where to focus on changing practice and how to identify "low hanging fruit"
Prioritize antimicrobial stewardship initiatives (e.g. electronic alerts, restricted antimicrobial approval) into a productive, feasible daily workflow designed to meet local institutional needs
Identify methods to use EHS to support AS activities
Manage non-formulary drug requests (P & T considerations)
Describe systematic approaches to improving antimicrobial use in the major "infection syndromes" where antimicrobials are over- and misused 
Create and update local treatment guidelines using local antibiogram data
Advanced AS Curriculum Workgroup COI Summary Reviewed April 2017 by Rachel Simmons, MD No conflicts found
Name
Individual's Role in Activity
Name of Commercial Interest
Nature of Relationship
Advani, Sonali
Workgroup member
None
 
Amstrong, Wendy
Workgroup member
None
 
Barsoumian, Alice
Workgroup member
None
 
Beeler, Cole
Workgroup member
None
 
Bryson - Cahn, Chloe
Workgroup member
None
 
Cherabuddi, Kartik
Workgroup member
Gatorade
Start - up Research Fund
 
 
NIH (Medimmune)
Research Grant
Cohen, Seth
Workgroup member
None
 
Hamilton, Keith
Workgroup member
None
 
Holubar, Marisa
Workgroup member
None
 
Huang, Misha
Workgroup member
None
 
Ince, Dilek
Workgroup member
None
 
Justo, Julie Ann
Workgroup member
None
 
Lee, Matthew
Workgroup member
None
 
Logan, Ashleigh
Staff
None
 
Luther, Vera
Workgroup member
None
 
MacDougal, Conan
Workgroup member
None
 
Nori, Priya
Workgroup member
None
 
Ohl, Christopher
Workgroup member
Paratek
Advisory/Consultant Role
Patel, Payal
Workgroup member
None
 
Pottinger, Paul
Workgroup member
McGraw Hill, Elsevier
Honoraria
Schooneveld, Trevor
Workgroup member
BioMerieux
Advisory/Consultant Role
 
 
Rebiotix, Merk
Research Grant
 
 
Insmed
Consulting
Schwartz, Brian
Workgroup member
None
 
Spicer, Jennifer
Workgroup member
None
 
Stack, Conor
Workgroup member
None
 
Zhou, Yuan
Workgroup member
None
 
Shnekendorf, Rachel
Staff
None
This version of the curriculum is not accredited for CME or MOC.