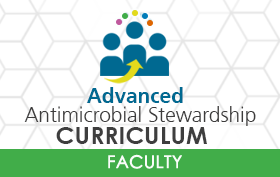 Section 3: Advanced AS Communication Strategies (Faculty)
Section 3: Advanced AS Communication Strategies
Concepts regarding one on one communication in stewardship skills were covered in the CORE Curriculum, this section focuses on more advanced communication skills that are needed in stewardship at a higher level. The main goal in Section 3, is to build upon how collaboration and communication can be nurtured and enhanced when working with new management and cross functional teams in a new leadership role. A new didactic and lecture style approach is sure to keep stewards engaged while providing well prepared feedback on how to effectively communicate with hospital leadership. 
This section contains 3 eLearnings and 2 Application Activities. 
As the faculty or stewardship champion leading this effort, you can decide how the content is distributed and presented to your stewards- in- training.
For Stewards:
The fellow/trainee can watch the eLearning on their own, followed by a debrief between fellow and faculty.
For Faculty:
To present in a classroom or small group setting, there are two methods of delivery:
| | |
| --- | --- |
| Method 1:                 | You can open the eLearning and let it talk for you, controlling the slides and the pace |
| Method 2:       | You can open the eLearning, disable the audio, and talk through the slides yourself |
How to Prepare in Advance:
Review the eLearnings within Section 3
Review the application activities
Draft timeline of when to complete each component of Section 3
Target Audience
Program Directors, Antimicrobial Stewardship Faculty Champions, and additional Faculty responsible for leading and implementing the Advanced AS Curriculum.
Learning Objectives
Upon completion of this section, stewards- in- training will be able to:
Employ effective techniques to deal with the "outlier" prescriber, non-formulary requests, special populations
Recognize programmatic approaches to effective AS communication (including initiatives to involve nursing staff)
Describe the steps involved in promoting culture change in institutions 
Demonstrate communication skills to negotiate with hospital leadership
Explain the behavioral psychology of clinicians regarding antimicrobial use
Explain the behavioral psychology of patients regarding antimicrobial use
Propose effective techniques to change antimicrobial prescribing habits of others
Adopt communication skills to influence the prescribing habits of others
This version of the curriculum is not accredited for CME or MOC.