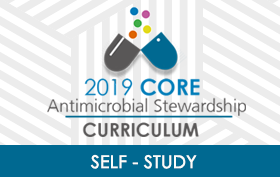 Section 3: Educating and Coaching on Antimicrobial Stewardship (Self Study for medical students)
Content in this section is available through 3 communication skills eLearning scenarios. These include:
Educating and Coaching on AS - Deference to Seniority
Educating and Coaching on AS - De-escalation and the Outlier Prescriber 
Educating and Coaching on AS - Overly Broad Empiricism
When you are ready to begin:
Ideally, you will begin by reading a brief primer on AS-related communication skills and behavioral psychology.
Next, complete the eLearning modules, starting with,  "Deference to Seniority" first.  
This section also contains a NARROWS mnemonic and reference pocket card to help you structure and remember AS communication skills to positively influence the prescribing habits of others. 
Target Audience
Infectious Diseases Professionals and others who desire to learn more about antimicrobial stewardship but are not in a participating fellowship program, no longer in fellowship, or would like to gain more knowledge on the subject.
Learning Objectives
Upon completion of this section, you will be able to:
Explain key behavioral psychology concepts that influence antimicrobial prescribing
Propose effective techniques to change antimicrobial prescribing practices
Use provider education techniques to effect change in antimicrobial prescribing
Demonstrate communication skills to influence antimicrobial prescribing habits of others
NOTE: Because this curriculum was initially designed specifically for fellows, you may hear repeated reference to "fellows", "stewards in training" or "fellows/trainees".
AS Curriculum Workgroup COI Summary Reviewed April 2017 by Rachel Simmons, MD No conflicts found
| Name | Individual's Role in Activity | Name of Commercial Interest | Nature of Relationship |
| --- | --- | --- | --- |
| Abbo, Lillian | Workgroup member | Pfizer Brazil | Honoraria |
| Advani, Sonali | Workgroup member | Nabriva Therapeutics | Advisory/Consultant Role |
| Amstrong, Wendy | Workgroup member | None |   |
| Barsoumian, Alice | Workgroup member | None |   |
| Beeler, Cole | Workgroup member | None |   |
| Bystritsky, Rachel | Workgroup member | None |   |
| Cherabuddi, Kartik | Workgroup member | Gatorade | Start - up Research Fund |
|   |   | NIH (Medimmune) | Research Grant |
| Cohen, Seth | Workgroup member | None |   |
| Hamilton, Keith | Workgroup member | None |   |
| Ince, Dilek | Workgroup member | Ansun Pharma | Research Grant |
| Justo, Julie Ann | Workgroup member | None |   |
| Logan, Ashleigh | Staff | None |   |
| Luther, Vera | Workgroup member | None |   |
| Lynch, John | Workgroup member | Astellas Pharmaceuticals, Juno Therapeutics | Advisory/Consultant Role |
| Nori, Priya | Workgroup member | None |   |
| Ohl, Christopher | Workgroup member | Paratek, Bayer, Cempra Pharmaceuticals | Advisory/Consultant Role |
| Patel, Payal | Workgroup member | None |   |
| Pottinger, Paul | Workgroup member | McGraw Hill, Elsevier | Honoraria |
| Schwartz, Brian | Workgroup member | None |   |
| Spicer, Jennifer | Workgroup member | None |   |
| Stack, Conor | Workgroup member | None |   |
| Zhou, Yuan | Workgroup member | None |   |
| Shnekendorf, Rachel | Staff | None |   |