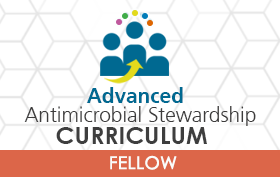 Introduction: Advanced AS Curriculum (Fellows)
The IDSA Advanced Antimicrobial Stewardship (AS) curriculum provides you with the knowledge and skills needed to become leaders in antimicrobial stewardship and is intended for those who are considering or actively pursuing a career in antimicrobial stewardship. It builds upon the IDSA CORE AS Curriculum, which provides you with a broad foundation in antimicrobial stewardship. 
As with the CORE curriculum, the Advanced curriculum is designed for use at your home institution and builds on local AS resources. The content is organized into 5 main sections and includes eLearning modules, workbooks, and application activities. 
Introduction: Advanced AS Curriculum (Approximately 30 minutes to complete)
Section 1: ASP Development & Logistics (Approximately 2 hours to complete)
Section 2: Antimicrobial Stewardship Operations (Approximately 3 hours to complete)
Section 3: Persuasive Communication in Stewardship (Approximately 2 hours to complete)
Section 4: Specialty Stewardship (Approximately 3 hours to complete)
Section 5: ASP Resources & Professional Development (Approximately 3 hours to complete)
Ideally, Section 1 should be completed first. The other sections can and should be completed in an order and interval provided by your program director, stewardship champion, or additional faculty.
Target Audience
Fellows/Trainees interested in leading an Antimicrobial Stewardship Program.
Learning Objectives
Upon completion of this section, you will be able to:
Develop a comprehensive antimicrobial stewardship program by defining overall goals, optimizing team structure, and carrying out regulatory and reporting aspects of stewardship
Analyze local microbiology and antimicrobial data and use it to identify and implement impactful antimicrobial stewardship initiatives
Apply behavioral psychology principles and leverage business principles to increase resources for antimicrobial stewardship and influence culture change by creating effective programmatic antimicrobial stewardship communication approaches
Evaluate and plan the most effective diagnostic and antibiotic stewardship interventions for unique populations and settings (specifically the emergency department, immunocompromised populations, long-term care facilities, and outpatient sites)
Identify resources for professional development in antimicrobial stewardship to be able to begin a career in antimicrobial stewardship
Develop a plan to expand the reach of a stewardship program into the outpatient setting and  effectively collaborate with OPAT programs to optimize stewardship efforts
This version of the curriculum is not accredited for CME or MOC.