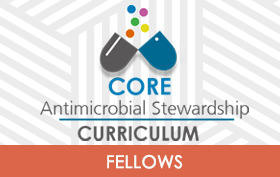 Section 1: Introduction to Antimicrobial Stewardship (Fellows)
Content in this section is available through 3 eLearning modules with additional supporting documentation.
 This section covers 3 main topics. These include:
An Introduction to Antimicrobial Stewardship
A Brief Overview of the Side Effects of Antibiotics, and
The Role of Diagnostics in Antimicrobial Stewardship
There is a handout highlighting Core AS Concepts that are introduced in this section. Knowledge check questions embedded in the eLearning also provide a mechanism to assess understanding of concepts.
Target Audience
Fellows/Trainees in Antimicrobial Stewardship Training Program
Learning Objectives
Upon completion of this section, you will be able to:
Define antimicrobial stewardship, its programmatic goals, and key strategies to achieve the goals
Relate trends and patterns between antimicrobial use and resistance
Recognize adverse events associated with the use of specific antimicrobials, including the risk for development of C. difficile infections
Describe the role of clinical and laboratory diagnostic tools in improving antimicrobial use
Define expected outcomes of an ASP
This version of the curriculum is not accredited for CME or MOC.