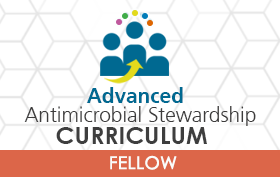 Section 2: Antimicrobial Stewardship Operations (Fellows)
Section 2: Antimicrobial Stewardship Operations
The content within Section 2 is directed at providing you with the knowledge, skills, and resources to assess the current and ever-changing state of one's Antimicrobial Stewardship Program(ASP). The mini-lectures within the first eLearning will introduce the concept of the Antimicrobial Stewardship Toolbelt. The application activities and workbooks are focused on having the learner apply the toolbelt to their local institution. It will also help them to learn about the importance of prioritization of initiatives and daily tasks.
This section contains 2 eLearnings, 5 application activities and 2 workbooks.
Target Audience
Fellows/Trainees interested in leading an Antimicrobial Stewardship Program.
Learning Objectives
Upon completion of this section, you will be able to:
Describe systematic approaches to improving antimicrobial use in the major "infection syndromes" where antimicrobials are over- and misused
Create and update local treatment guidelines using local antibiogram data
Analyze local institutional data (e.g. antimicrobial use and resistance patterns) to identify impactful local stewardship initiatives
Demonstrate an understanding of where to focus on changing practice and how to identify "low hanging fruit"
Prioritize antimicrobial stewardship initiatives (e.g. electronic alerts, restricted antimicrobial approval) into a productive, feasible daily workflow designed to meet local institutional needs
Identify methods to use EHS to support AS activities
Manage non-formulary drug requests (P & T considerations)
This version of the curriculum is not accredited for CME or MOC.