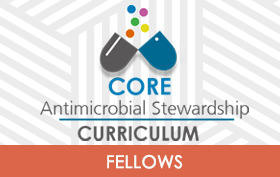 Section 3: Educating and Coaching on Antimicrobial Stewardship (Fellows)
Content in this section is available through 3 communication skills eLearning scenarios. These include:
Educating and Coaching on AS - Deference to Seniority
Educating and Coaching on AS - De-escalation and the Outlier Prescriber 
Educating and Coaching on AS - Overly Broad Empiricism
When you are ready to begin:
Ideally, you will begin by reading a brief primer on AS-related communication skills and behavioral psychology.
Next, faculty should lead one or more small group discussions while working through the modules as a group. If faculty resources are unavailable, you may complete the eLearning modules on their own. You should complete module, "Deference to Seniority" first.  
This section contains a NARROWS mnemonic and reference pocket card to help you structure and remember AS communication skills to positively influence the prescribing habits of others. 
Target Audience
Fellows/Trainees in Antimicrobial Stewardship Training Program
Learning Objectives
Upon completion of this section, you will be able to:
Explain key behavioral psychology concepts that influence antimicrobial prescribing
Propose effective techniques to change antimicrobial prescribing practices
Use provider education techniques to effect change in antimicrobial prescribing
Demonstrate communication skills to influence antimicrobial prescribing habits of
others
This version of the curriculum is not accredited for CME or MOC.