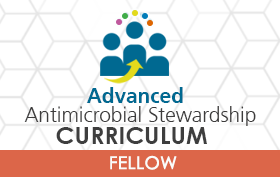 Section 5: ASP Resources, Professional Development (Fellows)
Section 5: ASP Resources & Professional Development
Section 5 of this curriculum helps to provide you with the resources to build an OPAT program, expand AS beyond the inpatient setting, and apply for a job in AS. 
The OPAT and Expanding your Reach eLearning activities prepare you to build a program from scratch or to reinvigorate and strengthen an existing program. Most of this content can be done independently with faculty oversight.
The Finding your First AS Job eLearning helps you prepare for the interview in the safe environment of your home institution. The CV, job talk, interview process, and negotiations should all be addressed. If you are not yet ready to apply, that is fine. In fact, there can be benefits to thinking about this process early, including the kinds of activities to pursue that provide appropriate training and that look great on a CV.
This section contains 3 eLearnings, 3 Application Activities and 1 Workbook.
Target Audience
Fellows/Trainees interested in leading an Antimicrobial Stewardship Program.
Learning Objectives
Upon completion of this section, you will be able to:
Identify mechanisms to expand existing ASP initiatives into OPAT programs and ambulatory settings
Identify resources for continuing education and self-improvement in stewardship (including mentorship and finding your first AS job, when applicable)
Refine leadership skills as applicable to leading an ASP
Refine communication skills to further advance ASP initiatives
 
This version of the curriculum is not accredited for CME or MOC.